Jib crane with manual rotation (Donati GBA-GBP)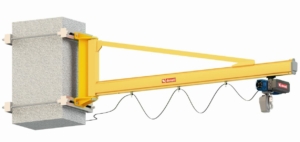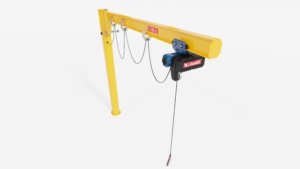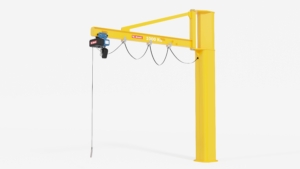 The Donati GBA-GBP is a low-cost and practical jib crane, ideal to be used in productive centers, where it becomes another operational machine.
Made in two constructive forms, column and bracket, it may have three different types of beams:
– Version C: crane with "channel"-type beam profile
– Version T: crane with "cantilever"-type beam
– Version H: crane beam "with tie"
The loads are from 125 to 2.000 kg, with beams of 2 to 8 m. The full range includes 138 types of standard cranes, in different sizes and constructive forms.
Fastening to the floor may be done with a base bolted to a foundation block, or through a base and blocks for other types of floors (concrete, for example). The cantilever cranes use a pre-existing column or pillar, and they are fastened to it with clamps.
The rotating mechanism has a fastening system that permits accurate positioning. Optionally, it may have an electric motor.
The crane design guarantees that it is suitable for industrial use, according to the service class ISO A5 (according to ISO 4301/88).
Jib cranes may have chain hoists, for which the DMK series is an ideal complement.
The electrical parts have a minimum protection level of IP54, and IP65 for the critical parts.
The finish is done with a double layer of yellow paint, with a previous shot peening, and then it is furnace-dried, which guarantees a long duration.
All jib cranes have been designed to comply with the following applicable standards; directive 98/37/EC as regards safety, directive 73/23/EEC for the Low-Voltage regulation, and directive 89/336/EEC as regards Electromagnetic Compatibility.
The cranes that are fully equipped with hoists include brand and EC declaration of conformity.
Please, press on Catalogue to know more details about it.

Jib crane with motorised arm (Donati CBE-MBE)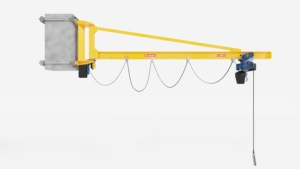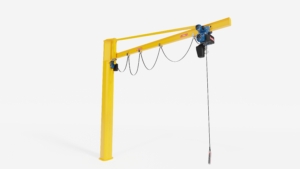 The CBE-MBE jib crane model from Donati, equipped with electric rotation, is available in an economic and light version.
Derived from the GBA-GBP series, it is ideal for heavier applications since all the movements/manoeuvres are electric. Built in constructive shapes analogous to the previous series, its is equipped with two different types of arms:
– Version T: Crane with cantilever arm
– Version H: Crane with overbraced arm
The rotation movement is provided by a gearbox with conical brake, vertically assembled and fitted directly on the rotation arm's axis. The subtleness of the movement is ensured by the motor's power supply through a frequency regulator (monophase power supply 230V).
The admitted loads vary from 250 to 2.000 Kg. with arms from 2 to 8 mt., thus allowing carrying out 48 types of standard cranes.
Please, press on Catalogue to know more details about it.
Jib crane with articulated beam (Donati CBB-MBB)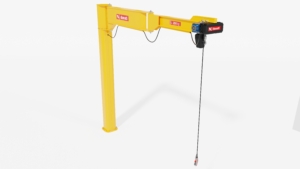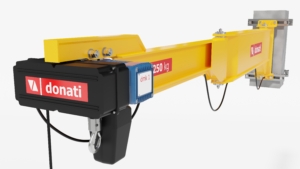 The Donati CBB-MBB model jib crane, commercialized by Selmetron S.L., includes an articulated beam. It is especially designed to be used inside buildings where the presence of obstacles prevents the rotation of a rigid beam.
The articulated beam consists of two half-beams, that may rotate in an independent but coordinated manner; pantograph-type articulation that allows the crane to cover an almost 360º sweep around the column.
It is designed and supplied in two constructive forms: column and bracket, and there are 86 different models with load capacities of 125 or 500 Kg. The modular beams are 3 to 7 m.
Please, press on Catalogue to know more details about it.

Electric Full-Rotation Jib Crane (Donati GBR)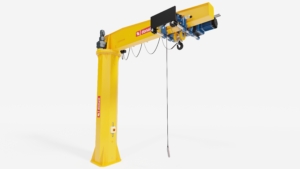 The GBR jib crane is the most functional crane within the Donati range commercialised by Selmetron. With a full rotation (360º), it adopts standard elements and allows diverse standard executions.
It also stands out due to its important structural dimensions and elevation capacity which, reaching up to 10,000 kg., allows working with heavy loads.
It has a self-supported column with an octagonal profile and closed profile beam from 4 to 10.5 mt. in length.
The elevated strength guarantees a proper functioning under any environmental condition.
Please, press on Catalogue to know more details about it.

Self-propelled Levelling Platform
It is a
counterweighted platform
that supports a crane with a rotating arm and chain hoist. There is no need to secure it to the ground, which means it is perfect for temporary or semi-permanent applications.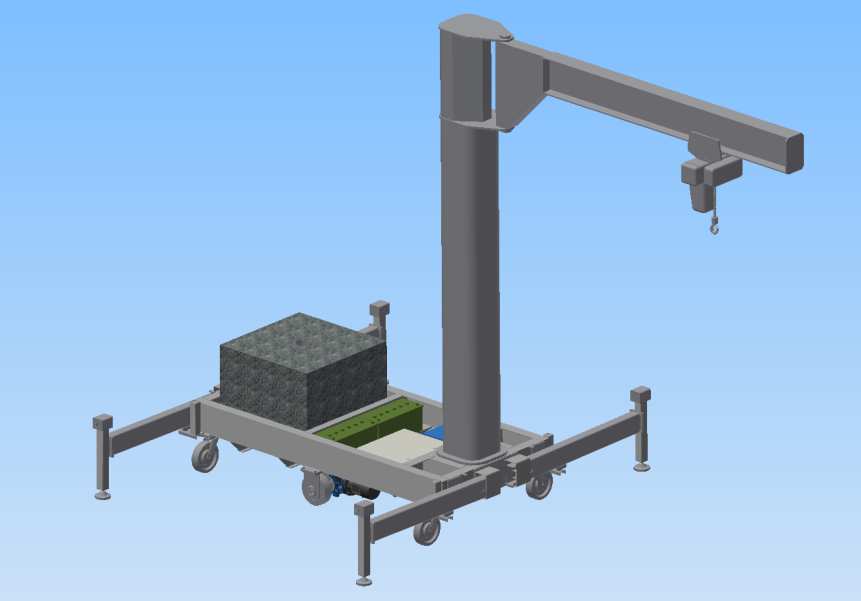 The platform moves by means of two motorised wheels powered by batteries and thanks to its considerable mobility, it is possible to install the crane in the required position in the facility.
Once the platform is in place, the articulated feet are deployed and it is levelled. Then the crane and the chain hoist are ready to use.
We have four different platform models that support any 'Donati' GBA, CBB and CBE column-mounted crane. The following table shows the appropriate model in each case.

The measurements of each model are as follows.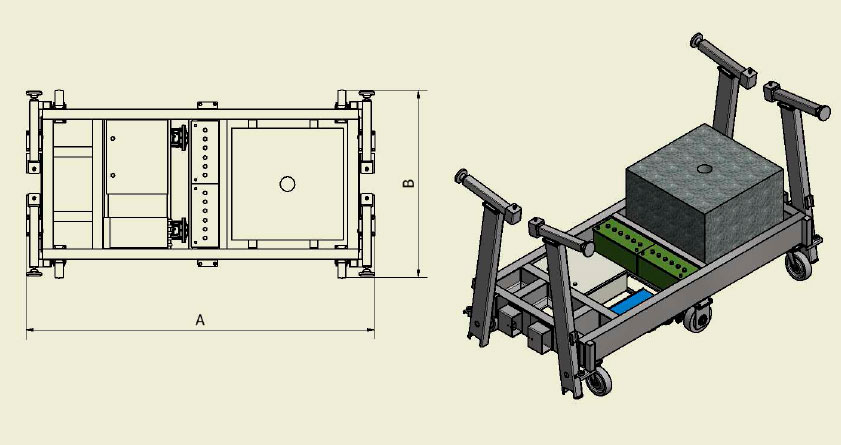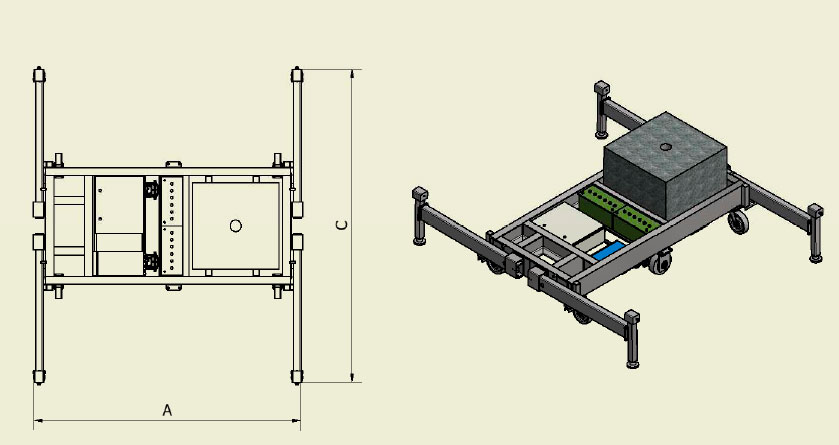 A (mm)B (mm)C (mm)
| | | | |
| --- | --- | --- | --- |
| M1 | 2000 | 1000 | 2000 |
| M2 | 2000 | 1300 | 2400 |
| M3 | 2500 | 1300 | 3000 |
| M4 | 3000 | 2200 | 3500 |
As well as the standard models, we can also manufacture customised platforms, depending on the needs of each client.

A compact floor with the correct resistance is necessary, depending on the crane model installed.
On the other hand, a compact floor in good condition and with a gradient not exceeding 2% is required to move it from one place to another (standard models).


The cart moves by means of two motorised wheels and one or more freely rotating wheels.
The two motors may be activated in both directions, separately -differential system- by means of a keypad (or radio control, see options).
The vehicle will move in a straight line if both motors are activated in the same direction (C and D) or turns if just one motor is activated (A and B), or both are activated in opposite directions (A' and B').

In all the standard models, the electricity for moving the platform is supplied through batteries (24v cc/48 v cc). On the contrary, the power for the chain hoist and crane when parking the platform in the operation site is supplied through a mains connection (230v/400v three-phase).
Optionally, the power to the chain hoist and crane may be supplied through batteries.

All the movements of the platform, the chain hoist and the crane are controlled by means of a low-voltage keypad (24v cc).
Optionally, a wireless control may be used, with the same set of buttons as the keypad or a joystick for controlling the platform movement + push buttons for the rest.

If you need more information in order to choose the appropriate product, please click CONTACT and we will reach you as soon as possible once you sent the required data.
To receive an offer for a particular product, please click OFFER APPLICATION and you will soon receive our offer for the product of interest once you sent the required information.
If you wish to configure your equipment and receive dimensioned drawings without a quote, please click on CONFIGURATOR.